LG Gen 5 Camaro Super Pro Headers and X-Pipe
Ease of Install. We learned a long time ago to make the system work, it needs to be easy for the user to install. So like our Corvette systems we made this as simple of a bolt on as you can get. All of our kits come complete from engine to mufflers or with mufflers and tips included so all you have to do is bolt it onto the car. Fittings slip together for the smoothest connection between pipes. This also makes our cats replaceable in the event of damage or you want to swap to an off-road setup for track use. The only cutting you would have to do, would be removing the stock mufflers if you want to use them with our kit as GM welded the OE system together complete from the manifolds back. All systems will come with off-road pipes included at no charge even for cat'd systems. All systems come with clamps, hardware, extensions, and now GM gaskets as well Features 1 7/8" Primary size 3" merge collector with fire cone. Full 3" mid section 3" high flow Siamese X pipe design Connects to OE or OE replacment mufflers with included 2.5" adapter. All wires, hardware, extensions and GM gaskets now included. High flow optional 200 cell metal matrix catalytic converters. Off-road pipes included no charge on cat'd systems.
35+ RWHP GAIN! LifeTime Warranty for original owner
. Also a new feature on the Super Pro line is our merge collector with fire cone. All LG Motorsports header kits are covered for the lifetime to the orginial owner against any defect or issue. Of course damage by accident is not covered.
CLICK BELOW FOR INSTALLATION INSTRUCTIONS
LG Motorsports G5 Camaro Super Pro Headers Installation Instructions
Dyno Graph - 2011 Camaro A6 trans Before / After LG Motorsports Long Tube Headers and Muffler System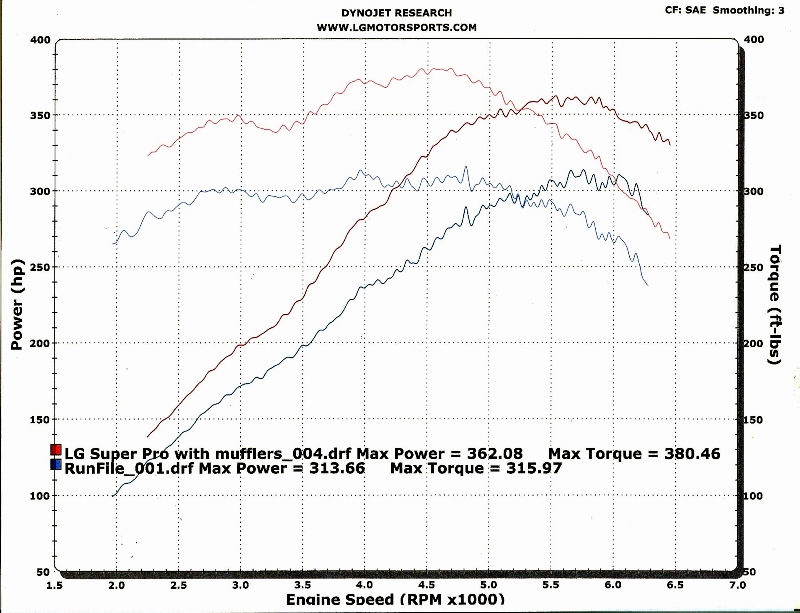 CHECK OUT THE VIDEO BELOW FOR MORE INFORMATION REGARDING THE LG MOTORSPORTS G5 CAMARO SUPER PRO HEADERS